Does Healthcare Review Management Matter?
72% of patients use online reviews to find a new doctor. So what are you doing to protect the reputation of your doctors, clinics, private practices, hospitals, and the overall healthcare system? Consumer healthcare reviews are one of the most important factors that influence a new patient's decision to work with a doctor or healthcare system. Here's a look at how reviews affect the healthcare industry.
How Do Patients Look For Healthcare?
Online healthcare reviews can be found on several different types of review sites. Reviews can be found on the sites of the individual health system, healthcare-specific review sites like Healthgrades, ZocDoc, and RateMDs, and more popular sites like Google and Yelp. According to a 2017 study by the Journal of General Internal Medicine, 57% of patients trust third-party sites like Yelp or Healthgrades compared to the 45% of patients who said they trust the healthcare organization's website for reviews.
82% of patients surveyed in a study by Software Advice, reported that they look at review sites to view or post a comment about healthcare staff. They also reported that 48% of respondents said positive reviews would influence them to go to an out-of-network doctor if they were better than the in-network doctors. For patients, healthcare reviews play a powerful role in their decision-making process.
HOW DO DOCTORS MANAGE ONLINE REVIEWS?
A high majority of doctors (78%) agree that online reviews lead to increased job-related stress. When the success of your career relies on patient reviews, it's easy to feel the weight of those reviews. Of those surveyed, 46% of doctors feel that online reviews can put a strain on the doctor-patient relationship. Because people are choosing to share their dissatisfaction online, instead of in-person, it can weaken the trust between the patient and their physician.
Since not every site for healthcare reviews allows doctors to respond to patient reviews, it's not always easy for doctors to tell their side of the story. Which is why it's always important for doctors to give patients a chance to feel heard and offer feedback in-person. This can prevent the need for patients to post negative reviews online. In addition to offering in-person feedback, doctors should actively respond to the online reviews on sites that allow responses like Yelp.
DO HEALTHCARE SYSTEM REVIEWS MATTER?
When it comes to online healthcare reviews, their effect can hit institutions the hardest. According to a study by Vanguard Communications, 84% of negative reviews on Yelp referred to service issues like billing problems, poor communication with the health system, or extensive wait times to see a doctor as their main area of concern. These types of reviews are a direct reflection of the healthcare system and not the doctors or staff.
Healthcare institutions receive significantly lower ratings than their doctors. According to that same study, 62.7% of patients ranked top hospitals as three stars or less. Contrary to that, 66% of patients rated their doctors as 4 stars or higher. When it comes to managing reviews, the healthcare system has a lot more to manage than doctors do. This is especially important when protecting the reputation of the healthcare institution is essential to bring in more patients.
HOW TO MANAGE HEALTHCARE REVIEWS
HIPAA Compliance
When it comes to managing reviews in healthcare, it is extremely important to make sure your responses are HIPAA compliant. You cannot disclose any protected patient health information in your response. Even if the patient willingly includes their own information in their review, that does not give you permission to respond with information about their health.

In order to avoid this, we always recommend offering to bring the conversation offline. Leave a phone number for the patient to reach you where you can discuss their information one-on-one. Here are some more guidelines on keeping responses to healthcare reviews HIPAA compliant.

Respond to Reviews Quickly
46% of consumers expect a response from a brand within 6 hours. That's not an easy feat, especially without a tool to help you manage reviews. Reputation management systems, make managing reviews easy. Our software alerts you of new reviews and sets the priority to negative reviews. Our workflow management makes it easy to delegate tasks to doctors, medical staff, legal, and customer service. We help keep you organized so you never have to worry about missing another review.
Keep up with ALL your Listings
Did you know that doctors can have separate listings from their healthcare institutions? With thousands of doctors, hundreds of clinics, dozens of hospitals and other service locations under a single institution, managing the listings and reviews for all of these is no easy feat. If you haven't made sure your listings are claimed and up-to-date across every site, you could have reviews that go unresponded to. Facebook is one of the biggest culprits of duplicate listings as a check-in by a user can create a business page for a doctor or otherwise if not yet claimed. Removing duplicate listings is vital to making sure your patients are heard and responded to. Managing your listings is the first step to improving your reviews.
Managing healthcare reviews is not easy, but it's vital to the success of your healthcare institution and its doctors. Patients are actively seeking reviews to make informed decisions about their healthcare. If you don't have a plan to monitor and respond to reviews you could be losing out on potential customers.
75% of doctors say reviews stress them out.
33% of doctors say they believe reviews actively cause patients harm.
34% of doctors say reviews could lead to healthcare overutilization.
Meanwhile, 82% of patients continue to consult third-party review sites before making decisions about their health care.
Unlike most other industries reviews aren't the sole factor driving healthcare decisions, but in truth the other factors hurt more than they help. Indeed, reviews may be the only way to mitigate some of the circumstances which can jeopardize both new patient acquisition and the lifetime loyalty of a patient.
And since most patients prefer third-party online reviews over government rankings or reviews posted on the practice website, they are not going away anytime soon. It doesn't matter if you're running a hospital, hospice, clinic, or local doctor's office. Reviews will continue impacting your business well into the foreseeable future.
Thus, if you're responsible for marketing any healthcare practice you're going to have to figure out how to account for them sooner rather than later.
YOU CAN'T RELY SOLELY ON YOUR HOSPITAL OR CLINIC'S INTERNAL REVIEW SYSTEM. HERE'S WHY.
Many healthcare companies have attempted to take control of the review process by creating their own review system. They run surveys and then post the results of these surveys, along with some patient comments, on their websites.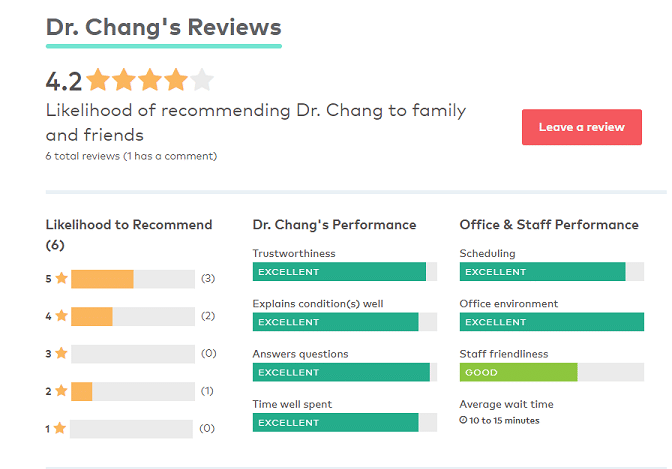 Same doctor, third-party site. Score drops from 4.9 to 4.2.
How significant is the difference? Sometimes it's only a few percentage points, but those percentage points still matter. Would you rather go to a doctor with a score of 4.9 stars or a doctor with a score of 4.2 stars?
Even if you account for disparities in the number of reviews collected (in the example above the hospital has collected far more reviews than the third-party site has) the perception of bias continues to linger. It will get worse if your hospital seems to report every available physician has nearly 5 stars.
Dropping a few poor reviews here or there can make a huge difference in the way these scores are generated. All a hospital has to do to keep ratings high is to throw out some percentage of the 1 and 2-star reviews to ensure the results skew positive. It may even seem ethical when the reviews in question seem unfair or spurious.
I can hear the objections already. Sometimes reviews really are unfair or spurious, and third-party sites can be downright tyrannical about getting them removed.
C'mon. Do we really have to display the opinion of the dying dog guy?
There are solutions for this problem, which I'll share in a moment. For now it's enough to note for better or worse, customer perception is going to be the deciding factor in whether they book the appointment. Keep reviews on your website all you want, just don't expect them to save you from having to engage with all the other sites out there.
ATTRACTING PATIENTS…AND KEEPING THEM.
Getting patients is hard. Earning their loyalty is harder.
And while customer attraction and retention are common problems for every industry, healthcare providers face special challenges.
Patients are often so terrified by skyrocketing medical costs and insurance denials they fail to pursue services, even if they really need them.
Healthcare providers have to bring in far more people than other industries, because a healthcare company is in the unique position of never knowing whether any payment will be received for services rendered.
It's harder for healthcare companies to get reviews, which means one bad review can unfairly skew star ratings and customer perceptions.
Bad reviews are more likely, because patients are more likely to leave a review for a doctor or a hospital only if the experience was "extreme," either extremely positive or extremely negative.
Increasing the number of happy patients who are investing in the review writing process can help mitigate some of these issues in the following ways:
Even the simple act of writing a positive review can help build loyalty to your facility and the doctors in it, helping to reinforce what patients enjoyed about the experience.
More reviews means better SEO results, more patient trust, and increased likelihood patients will choose to book an appointment.
Gently encouraging happy patients to leave a review can provide reviews generated by perfectly normal transactions, rather than extreme ones, providing prospective patients with a clearer picture.
Increasing the number of reviews you receive means bad reviews have far less of an impact.
Of course, reaping these benefits won't happen unless you lose your suspicion of reviews and start making concrete changes to the way your practice approaches patient feedback.
CHANGE YOUR MINDSET, SAVE YOUR PRACTICE.
Irritation over the need to generate positive reviews is highly counterproductive. Even if you're one of those doctors who thinks reviews will cause patients to try to use healthcare services too much.
Instead, adopt a fresh mindset about all the benefits of reviews. In addition to the ones mentioned above, more reviews means more patients, which means more profit.
And here's the secret. If you can change just one tiny reality about how reviews interact with your practice, reviews will typically end up being more positive than negative, assuming you're running a good, solid practice and treat patients right. (You do, don't you?)
Now consider you'll get a review for the asking about 70% of the time, if you make a personal ask. And if you have to ask patients to leave a review, they're happy enough to leave a good one. Besides, you wouldn't make the ask of someone who is clearly unhappy.
Which means if you can change your mindset, get pumped about reviews, and begin integrating the request for a review into your practice's culture, then you can take control of the entire process in a positive way.
YOUR PRACTICE CAN SCORE REVIEWS—THIS ISN'T EXACTLY A TRIPLE BYPASS.
Reviews for the asking? But who should make the ask? You've got a couple of options.
If the patient has a good relationship with the doctor and the nature of the visit makes it appropriate, the doctor can always ask at the end of an appointment.
The nurse who took the vitals, offers up the doctor's instructions, and probably spent as much time, if not more time, with the patient than the doctor did could also make the ask at the end of the appointment.
The receptionist can make the ask as the follow-up appointment is being made, or as the patient is checking out.
Choose one person who is going to handle the task. You want someone who can make the ask in an easygoing, natural way. You also want someone who is good at reading the room, and who knows when it's better not to make the ask.
Of course, asking isn't always going to do the trick, and sometimes it's just flat out inappropriate to do it on-site. Fortunately, you've got some other tools you can use.
REDUCE STRESS BY TAKING CONTROL OF YOUR HEALTHCARE INDUSTRY REVIEW MANAGEMENT PROCESS.
What if your third-party reviews looked as awesome as they do on your company website?
You can make this happen. As mentioned, getting even a few negative reviews off the table can make a huge difference.
With the review funnel, you can steer happy patients to your preferred review site listings and unhappy patients to a contact form instead, one where they can air out their grievances without harming your practice's reputation.
Simply have your receptionist invite patients to receive a three email review request drip campaign, or have patients go through the review funnel in the waiting room on a tablet, then have the positive feedback emailed to them so they can post it on one of your preferred 3rd-party review sites. That way your practice won't be penalized for having too many reviews coming from the same IP address.
You get the chance to make it right with unhappy patients, building their loyalty in the future, and the dirty laundry remains unaired.
YOU MAY NOT REALIZE IT, BUT YOU CAN EVEN TAKE SOME CONTROL OF THE CONTENT OF THE REVIEWS YOU RECEIVE.
I don't mean you're going to fake reviews, or write reviews for your patients. Rather, you're going to take advantage of the fact that people are often happy to have a little guidance about what to write.
And if you're going to request feedback in an email, you can briefly hit on those touch points.
But first you need to know what a valuable healthcare review might look like.
To figure it out, let's start with the 5 things patients are trying to ascertain when they read reviews. These are "hot buttons," if you will, for patients, the things they either get happy about or unhappy about when they visit a healthcare provider.
1. Are the doctor and staff compassionate, kind, and respectful? Was everyone in the office pleasant and professional?
2. Does this facility respect my time? If I've got an emergency, how long can I expect to wait before I'm seen? If I've got an appointment, will I be seen on time?
3. Will the doctor and the staff really take the time to figure out what's going on with me? Or will the physician breeze in and out after a cursory 3 minutes without stopping to listen to my questions and concerns?
4. Is the medical staff at this facility competent? Will I receive safe care? Will my issue be treated, to the extent allowed by medical science and my own insurance company?
5. Will there be any problems or surprises with the billing process? Will this facility accurately help me process my claim so I pay as little as possible out-of-pocket?
Here's an example of a really solid review.
This review hits most of the hot buttons:
Everyone was friendly.
The patient spent the typical amount of time at the office, both in terms of wait time and visit time.
The doctor listened well, and knew what she was talking about.
This one's from RateMDs.com. Notice how this site even asks patients to rate each aspect of their experience, and note how they correspond to four out of the five hot buttons above.
NOTE:
You're almost never going to see a positive review talking about billing issues. If there's no problem, patients probably won't talk about it, especially since they won't even see the final bill until about thirty days after the visit.
To get these awesome reviews, you need to gently nudge patients in the direction of thinking about these things. It's harder to do this on an in-person ask, and you can't do it at all with printed materials.
But you can slip a little hint into the follow-up email.
AN EXAMPLE FOLLOW-UP EMAIL:
Hi, [patient name]!
Just letting you know all the follow-up information from your visit today is ready for you in [Name of Patient Portal]. This will include post-visit instructions, information on your prescriptions, communications from your doctor, and an easy, convenient way to schedule additional appointments should you need them.
If you've never done so before and found your care to be thorough, warm, and prompt today, please consider clicking here to leave our practice a review. It really helps us out, and we actively use your feedback to make our practice better.
It's subtle, but notice how this example gets patients thinking in the right direction by hitting on some of those points:
"Thorough" hits on whether the doctor spent enough time with the patient.
"Warm" touches on whether the doctor and staff were compassionate, professional, and kind.
"Prompt" touches on the issue of wait time.
WHY ARE WE ONLY HITTING THREE OUT OF THE FIVE HOT BUTTONS HERE?
Because patients have no framework to evaluate how competent their care was a few hours of their visit, and asking them whether they thought the doctor knew what he or she was talking about is a good way to get them questioning whether the doctor does!
And, of course, the last thing you want to do is redirect the patient's attention to the billing process.
Patients are happiest with the billing process when it's largely invisible.
WHY THE BIT ABOUT THE PATIENT PORTAL FIRST?
Frankly, because healthcare isn't like any other service. It deals with some highly sensitive personal issues, pains, and fears. Thus, simply launching right into "hey, leave us a review" would be inappropriate and jarring.
Offering something of use which helps patients manage their help as the primary reason for the email helps to ease and smooth this transition.
FOR BEST RESULTS, START DIRECTING THE FLOW OF REVIEWS TO THE THIRD-PARTY SITES CURRENTLY DELIVERING THE MOST VALUE TO HEALTH PROFESSIONALS.
There are lots of places customers might leave reviews, but the sites with the most value are listed below.
You can direct the flow of reviews by suggesting any of these sites when you make your ask. You can also build them into response forms and automated emails so you get a nice rotation going between all of them.
TAKE THIS FEEDBACK, AND CALL ME IN THE MORNING
As vital as reviews are as a marketing tool, don't overlook their other function. They can help you improve your healthcare facility.
Read reviews carefully to see where your practice may be failing to deliver the high-quality of care you want to offer. If you find common themes in the complaints, find ways to address them. If you see what you're doing right, do more of it.
By doing this, you can fine-tune your service until you've created the best practice you can possibly create. And when you do that? You can't help but win.
29 SEP

 HEALTH AND MEDICAL SEO INSIGHTS FOR CLIENTS

Search engine optimization is a $5 billion dollar market for good reason—every business, large or small, must be found online where consumers are searching. As a marketing service provider with a diverse client portfolio, you know SEO basics are applicable to practically any website, in any industry. Yet, when you enter a vertical like health and medical, what SEO tips should you know to be effective for your clients?

The health and medical vertical is a critical area for websites, listings, and other online content to be found—which means SEO for this industry is crucial to get right. 80% of Internet users have searched for a health-related topic online, and "near me" searches for doctors have steadily increased since 2016, which means that it's also increasingly important to invest resources in being found online.

However, the healthcare industry has a few challenges when it comes to standing out in search engine results.
WHAT IS HEALTH AND MEDICAL SEO?
Medical and healthcare SEO is the crucial process of making your client's health and medical businesses and organizations found when consumers and patients are searching for them online. It is the process of optimizing the medical or health-related website and online content to make appear at the top of the search results when people look to search engines like Google for help.
Do you have a health or medical client that needs SEO help? Explore our marketplace for re-sellable SEO apps and services!
SEO GUIDELINES FOR HEALTH AND MEDICAL SITES
To understand the SEO needs of a website, a provider must first assess the goals of the website. A medical website aims to be educational and informative but it also has the ultimate objective of promoting the practice and getting prospective patients through the door. If you have clients that want to position their website for their medical practice, you know that their target audience is often anxious, uncertain, and concerned with finding a trustworthy medical professional—they will run at the first sight of any hard sales pitch, or other "profit-before-patient" marketing
Consumers in the medical and health industry are looking for professional and trustworthy help, not to be sold to. In some regions, the industry faces exhaustive rules on what professionals can and can't say in marketing and advertising.
Additionally, the medical vertical is an extremely crowded market where standing out from other practices and competing against large clinics and hospitals is an everyday battle.
With these unique challenges, how can you help your clients better position themselves in SERPs without making their site look like a content mill?
First of all, you need to have a handle on SEO basics and understand where medical websites will be different in terms of SEO priority tasks.
HOW IS HEALTH AND MEDICAL SEO DIFFERENT?
Oh, let us count the ways! Healthcare is a field where the need for educational content within a site is extremely high, making SEO keyword competition fierce as well. Additionally, website structure and markup schema are elements that need to be especially prioritized. Finally, medical sites are often more similar to websites for local businesses (as opposed to corporate sites) and need many of the same optimizations.
"Near me" type local searches have seen an upward trend for the past 5 years. Image above: searches for "family doctor near me" over time.With these tips in mind, you then have to remember to go back to basics: security, site speed, links, content and mobile-friendliness.
Let's make a checklist with actions you can take today.
8 SEO STEPS FOR HEALTH AND MEDICAL WEBSITES
Here are the eight components that you need to be cognizant of when optimizing SEO for health and medical websites.
Site Speed and SEO
Site speed is a critical factor for any business' SEO. If a site takes longer than three seconds to load, most visitors will abandon the site, and they're especially unforgiving if they're visiting from a mobile device. Most visitors expect a site to load in 2 seconds or less.
To get an idea of a client or prospect's existing site speed, you can run a free SEO report on their site. If you see their loading speed on desktop and mobile in red, you know there's a problem.
If a consumer is searching for medical or healthcare information, there should be no delay in them accessing that information. Medical and health issues can often be critical, so taking the right steps to ensure your website loads as fast as possible is crucial to your customer experience and the overall website ranking.
The most likely culprits to slow site speed are:
Excessive images that are not well optimized or unnecessary animated elements (for instance, a gif files peppered throughout the homepage)
External scripts (fonts, ads)
And even your web hosting provider
Look at these three elements first to pinpoint where you can improve site loading speed
site speed and seo
With this animated banner on an image-heavy homepage, we have a good idea as to what's making this site slow!
Mobile Optimization
Mobile SEO for health and medical sites will be focused on improving loading time for websites being viewed on mobile devices, it also needs to 'look good' and be user-friendly for these visitors. Visits coming from mobile have overtaken desktop traffic to hospital and health system websites with over 62% of traffic coming from a mobile device.
If someone navigates your site from their mobile phone but has a hard time clicking on the menu or quickly finding a contact number, they aren't going to have a great user experience.
If your client's site is built on a platform like Weebly, Wix or Squarespace, their template will likely make their site automatically responsive and mobile friendly. Most modern WordPress themes are also fully responsive. Make sure contact information is on a permanent footer and that the phone number is visible and clickable.
Security and SEO
Google may not consider a site search engine friendly if it doesn't have an SSL certificate. If the site appears as insecure (without HTTPS), your client needs to get a certificate right now. Otherwise, their visitors will be warned that the site is potentially dangerous and be instructed to avoid it.
A secure site is critical for medical and healthcare sites not only because it's basically a requirement, but also because these sites often have contact forms, appointment scheduling tools, login or payment areas, live-chats, and many other features that may deal with sensitive information.
You can check the site's status by typing the address in and seeing whether there is a green lock indicating the site is secure. Within the free SEO report, you can double-check that search engines are also seeing its secure status by looking for an SSL section in green. If it's in red, there's a problem, and the SSL certificate is not correctly installed.
This message is not good.
Google My Business (GMB) & SEO
Your client's GMB page is extremely important and should be one of the first things to optimize for SEO. An optimized Google My Business profile is one of the best ways for patients and potential patients to find a practice.
If your client is part of a practice with multiple practitioners, but needs to optimize for his specific services, Google My Business can handle that as well. The best guide for you to read about this is here. It's from Google, and covers many different types of listings you can choose from. Additionally, use the multi-location local SEO checklist here to get yourself organized.
google my business and seo
GMB optimization can get tricky if you have multiple practitioners at a larger clinic!
If the GMB listing has been created or claimed already, then the things you can check for at a glance are whether map location and Name, Address and Phone (NAP) are correct and consistent with the website and any other listings that appear online. Also make sure the GMB listing points to your client's website URL and that opening hours are accurate.
Adding additional content like photos, reviews, and ensuring the business categories selected are correct are all factors in having an optimized GMB profile. Getting all this in order will also help the site appear in "near me" searches and significantly improve the SEO for your client's medical website.
Schema & SEO
Schema (necessary to appear in Google's rich snippets) will give your client's medical website more opportunities to rank better, since it provides Google with a lot of context and details about your site.
What kind of elements can be highlighted with schema?
MedicalCondition (information regarding a specific medical condition)
MedicalWebPage ( for a single-topic web page about a health/medical topic)
Drug (medical drug information)
If you're not familiar with how to include schema markup in your client's site, just by identifying which pages would benefit from including it, you're already moving in the right direction. Then the client just has to get their webmaster or contractor to include the snippet and make sure it appears properly in search results.
Links and Medical SEO
Before getting into advanced link-building techniques with your client's site, make sure their site is included (with correct NAP information) in the main local directories (YellowPages, WhitePages, Yelp, MedlinePlus, MD Select, etc), in their Local Chamber of Commerce site, and other business directories. Each listing should always point back to their main website.
Once your client's site starts publishing content based on keyword research, they'll get plenty more opportunities to get quality backlinks by doing some outreach.
Offline SEO Tips for Medical Websites
What can your clients do on their end in order to help their website and practice grow? They need to ask longterm, satisfied patients to leave reviews for them! Prioritize reviews on Google My Business as well as Yelp. Reviews help establish trust and credibility and can make the difference when a potential patient or partner is checking your client out. If there are already reviews, respond to all of them, positive or negative.
When there are a few reviews, a selection should also go directly on your client's site. This can be done with a plugin like WP Review Pro, POWr, and others.
They should also join their local Chamber of Commerce, engage in direct mail efforts including their website URL, and always be taking photos of their practice, colleagues and staff in order to have material for their online pages, website and social media presence.
SEO Medical Websites Examples
Time to see great SEO in action! Check out the following websites that rank on the first page of search engines results for local searches with competitive keywords (i.e. "general physician", "sports medicine doctor"). All three have very well optimized Google My Business listings.
Dr. Andrew Goldstone
What the site does right:
Phone number is immediately visible and clickable on homepage
Has an appointment and contact page
Has dedicated pages for medical conditions
Is mobile friendly and has an accessible version of the site
Dr. Paul C. Murphy
What the site does right:
Phone number is immediately visible and clickable on homepage
Has a 'book online' page
Has patient reviews on homepage
Has dedicated pages for medical conditions
Has dedicated pages for services
Has a blog
Dr. Hai Kao, South Slope Pediatrics
What the site does right:
Phone number is immediately visible on homepage
Has a 'book online' page
Has a continuously blog
It highlights the unique culture of the practice
It invites visitors to connect on social media
A local guide (for Brooklyn, NY) has linked to their website on multiple occasions
Takeaways
The health and medical vertical is a crowded and competitive market, which makes it hard for your clients to stand out. However, with these SEO techniques, you can ensure that your medical and health clients rock the SERPs and are found when patients are looking for them.
Remember these crucial tips for your clients' sites:
Start by determining site speed and contributing factors
Assess mobile optimization
Your health/medical clients need an SSL certificate to rank
Start by optimizing your clients Google My Business page for local search
Your clients need informative and educational website content
Schema markup is key to appearing in Google's rich snippets
Make sure your clients are listed on the main local directories
Don't let them forget about the importance of offline service and reputation.